On July 4th it seemed like the only certainty for Croatia was uncertainty. Expectations were that the parliamentary elections on the following day would result in a total deadlock. But instead July 5th brought an unexpected result and with it a stable political future for the country. The ruling centre-right HDZ (EPP) won 66 out of 151 seats, its best result in over a decade, leaving the party which has ruled Croatia for 23 of the last 30 years set to rule for up to four more years, and this time with an even tighter grip on power.
Before the election day pollsters predicted around 50 seats for the HDZ in their thorough projections, with around 60 seats for the main opposition party SDP's Restart coalition (S&D|RE). Instead, the HDZ won 63 seats from the 10 main electoral districts plus the further 3 diaspora seats, with Restart coming out with a paltry 41 seats. The SDP leader Davor Bernardić resigned soon after in semi-disgrace while Prime Minister Andrej Plenković (HDZ-EPP) celebrated his unexpectedly large victory.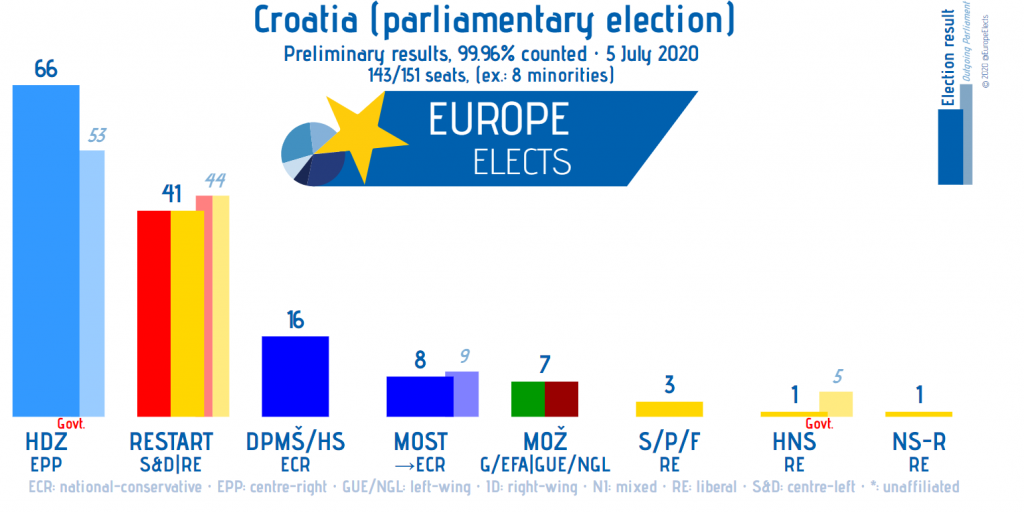 Plenković had plenty to be happy about too, since he achieved more than just an electoral victory on the 5th. The HDZ's traditional rivals—the SDP—received their lowest number of seats in over two decades with just 32, making Croatia's political duopoly look much more like a monopoly. Additionally the conservative challenge from Plenković's right, Miroslav Škoro's Homeland Movement (DPMŠ-ECR), was subdued for now as they will not be playing the role of kingmaker in the new parliament.
Instead the HDZ will be able to rule without a major coalition partner, only needing the support of eight minority MPs along with one seat a piece from the HNS (RE) and the NS-R (RE). That brings them to 76 seats, exactly the amount needed for a majority in a parliament with 151 seats. That may seem like a thin majority at first glance, but the HDZ ruled for the last four years as a minority government, meaning even such a slim majority is a far more favourable outcome for them.
Favourable especially since that majority will not have to be built on the backs of national-conservative DPMŠ, whose eponymous leader specifically said he would not enter a coalition with the HDZ while the centrist Plenković remains as its leader. DPMŠ and its coalition are largely a consequence of a right-wing reaction against the moderation of the HDZ under Plenković, with many of its members being high-profile defectors from the party.
The second notable conservative party, Most (→ECR), came fourth with 7% of the vote, giving the party eight seats in parliament. It is the third straight election where Most has lost support since it stormed the Croatian political scene in 2015 by winning 19 seats and then forming a government with the HDZ. For that brief coalition it has been paying a heavy electoral price ever since. The result is a disappointment for Most compared to past elections, but the party hopes to have established itself as a mainstay of the Croatian political scene, something it does seem to have done.
Another party that hopes to do the same is the green-left coalition Možemo (GUE/NGL|G/EFA). Eating away at the SDP's support amongst educated urbanites—mostly in Zagreb—it achieved a surprisingly strong result with seven seats and 7% of the national vote. It is the most prominent left-wing & green alliance to ever emerge in modern Croatian politics and it no doubt hopes to displace the SDP as Croatia's main left of centre political force—something it has gone a long way towards with this Sunday's result.
To a certain extent, though, all this year's results should perhaps be taken with a grain of salt, since turnout in the end was just 46.9%, the lowest figure in Croatian history. Post-election analysis showed that 25% of the SDP voters from 2016 did not turn up to vote this year, costing them and their coalition heavily. But it was not just in the SDP-voting areas that turnout was down. Every single one of the ten electoral districts saw a drop in turnout when compared to 2016.
That low turnout benefitted the HDZ more than anyone, as they were able to increase their share of the votes from 2016 while losing 60,000 voters in absolute numbers. That translated into a disproportionately strong performance in terms of seats, thanks to Croatia's particular method of proportional representation where seats are distributed by electoral district instead of nationally as a whole.
The implications for Croatia's future remain the same, nonetheless. Andrej Plenković, as the emboldened head of a more centrist, 'European' HDZ, has a mandate to lead Croatia down a path of further European integration in the years ahead. His party's stranglehold on domestic economic and political life continues.
See party results broken down by municipality below: