It has been almost four months since the Ibiza Scandal which saw an undercover video released of then Vice-Chancellor Heinz Christian Strache and Johann Gudenus, both members of the right-wing Freedom Party of Austria (FPÖ-ID). This video showed Strache and Budenus offering government contracts to a woman posing as the niece of a Russian businessman in exchange for positive media coverage.
This scandal shook Austrian politics and brought an end to the coalition of the liberal-conservative Austrian People's Party (ÖVP-EPP) and the FPÖ. It also saw Brigitte Bierlein appointed as Austria's first female Chancellor on an interim basis while new elections are held. But has anything actually changed in these past months and will ÖVP leader Sebastian 'Wunderkind' Kurz lead Austria once again?
Kurz looks set for Victory
Current polling suggests a comfortable lead for the ÖVP over the other parties with most polls showing Kurz's party winning around 34% of the vote, only 2% more than 2017. This would give them 66 seats according to Europe Elects' projection, falling well short of a majority, forcing the party to seek another coalition. Perhaps surprisingly, the FPÖ has not lost many of its followers, with their leaders claiming that the Ibiza Scandal was set up by the political establishment. They currently poll around 20%, which is down 6% from their 2017 result. Despite the scandal, a ÖVP- FPÖ coalition remains the most likely outcome after the election, as it's clear that FPÖ's controversial policies do not exclude them from Kurz or his supporters as a potential partner.  It also appears that many FPÖ's lost votes could be picked up by the ÖVP.
Another Tale of Woe Social Democrats but a Bounce for the Greens
The Social Democratic Party of Austria (SPÖ-S&D) are led into this election by their first ever female leader, Pamela Rendi-Wagner. Although this marks a historic moment for the party, the upcoming election could be historic for them in a different way. Since 2017, SPÖ has been stagnant in the polls and have even lost ground in recent months, failing to capitalise on the Ibiza Scandal. They currently poll at around 23%, possibly on course for their worst ever election result, putting them in a tight race for second place with the FPÖ. However, this fall in support is not entirely of their own doing since, like across much of Europe, The Greens (Grüne-G/EFA) are seeing rising support. Following on from the 2017 election which saw The Greens drop out of the Parliament for the first time since 1983 after failing to meet the 4% threshold, the party has achieved a full U-turn and are currently polling at around 13%, a figure that would mark their best ever result. Our projection suggests that they could pick up 22 seats, becoming the fourth largest party in the parliament.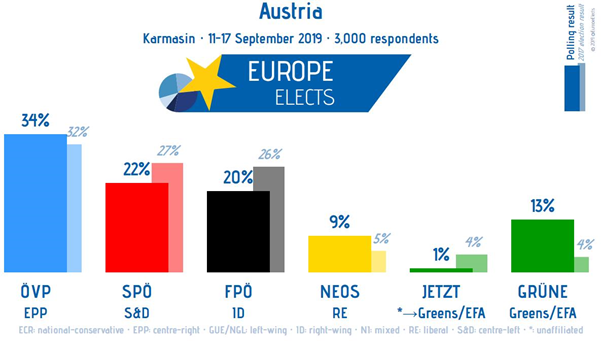 The Liberals Score but Peter Pilz Misses the Target
The liberal NEOS (RE), are on course to nearly double their support from the last election, currently polling at around 9% and will gain 16 seats according to our projection. This is set to be their best result in a general election, having only been founded seven years ago. If Kurz and the FPÖ fail to agree on a coalition, a strong performance by NEOS could result in him turning to them for support.
JETZT (G/EFA), formerly known as Peter Pilz List, have been another victim of the success of The Greens. A split-off from The Greens and advocates of green politics, they have failed to become the dominant green party in Austria and currently poll at around 1%-2% of the vote. This would see them fail to elect any members to the parliament in this election, a reversal from two years ago when they were able to outperform the Greens.